Listen: 10 Classic Singles From Late 'Queen Of Country Music' Kitty Wells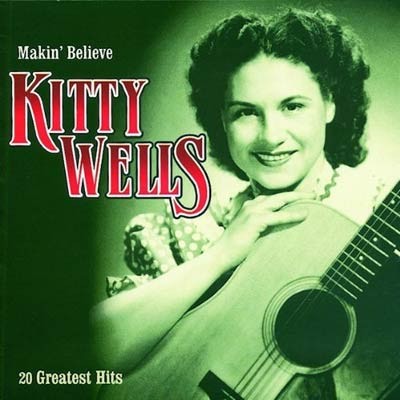 If it wasn't for legendary country singer Kitty Wells; who passed away on Monday from complications related to a recent stroke; we might not know such names as Reba McEntire, Shania Twain, Carrie Underwood and Taylor Swift, and the men might still be dominating country music.

But thanks to Kitty, country music was changed forever after a string of hits throughout the 50s and 60s, beginning with her chart-topper "It Wasn't God Who Made Honky Tonk Angels."

At the time, it was unheard of for a woman country singer to have a number-one hit, and record companies were hesitant to sign female country singers. But Kitty proved them all wrong and went on to not only become the first female country singer to issue a full LP; but she also became a superstar and paved the way for such celebrated women singers as Dolly Parton, Loretta Lynn, Patsy Cline and Tammy Wynette.

Kitty's reign at number-one lasted for 15 years before a girl named Tammy Wynette came along and took over, thanks to her five number-one singles in 1968.

Born Muriel Ellen Deason on August 30, 1919, Kitty Wells recorded near 50 albums and performed for over 50 years.

Now, sit back and have a listen to 10 of the best songs from The Queen of Country Music...


"It Wasn't God Who Made Honky Tonk Angels"
"Heartaches By The Number"
"I Can't Stop Loving You"
"Making Believe"
"Paying For That Back Street Affair"
"I'll Always Be Your Fraulein"
"I Dont Claim To Be A Angel"
"Will Your Lawyer Talk To God"
"Lonely Side Of Town"
"If Teardrops Were Pennies"
Bonus: "One By One" (Duet with Red Foley)