Lisa Rinna Shutting Down Clothing Store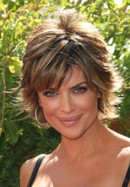 Actress Lisa Rinna is closing the Sherman Oaks, California clothing store that was burgled twice in as many weeks a year ago.

Closing notices appeared on the windows of Ventura Boulevard's Belle Gray in the run up to Christmas.
The closure news comes days after Rinna announced she would be returning to daytime soap Days of Our Lives in 2012. Rinna played Billie Reed for more than 150 episodes on the show before leaving in 2005.

The actress and her husband Harry Hamlin were famously promoting their new books and a reality show on a breakfast TV program in New York when they heard about the first store burglary.

Hamlin excused himself explaining he needed to take a call because their store had been hit by thieves.