Lisa Rinna Returning To 'Days Of Our Lives'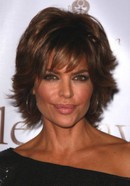 Actress Lisa Rinna has confirmed she is to reprise her iconic role on soap opera Days Of Our Lives.

Rinna is to start filming this week and her new episodes will begin screening next March, according to the Hollywood Reporter.

The 48-year-old beauty admits she can't wait to revive her character Billie Reed after stints on reality TV shows including The Apprentice and Dancing With The Stars.

She says, "I am so thrilled to be back and excited to be acting again. I have done reality shows, talk shows and I thought, what a great way to come back and play a character that I love to play so much. Feels very full circle - like a new old chapter."

Rinna last appeared on the show in 2005 and has played Reed in more than 150 episodes.