Lisa Rinna Mad Her Name Was Used To Sell 'Hollywood Moms' Club'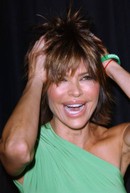 Lisa Rinna is furious after learning she is featured in a new reality show with her pals Alison Sweeney and model Ali Landry, because the pair never asked her permission before selling the concept to TV bosses.
 
The actresses have announced they will star in and produce a new show, called "Hollywood Moms' Club," for TV Guide Network. The show follows the pair's regular mum-orientated dinners with close friends Rinna and Denise Richards.
 
But the soap star insists Sweeney and Landry went behind her back and used her name to help sell the show - and she's adamant she'll have no part in the series.
 
On her Twitter.com page, Rinna writes, "I am NOT a part of this new 'Hollywood Moms club' on the tv guide network. Ali and Ali sold the concept without us and we r (are) now finding out. They went out and sold the show with out any of us knowing. We are just finding out about it now. WOW.
 
"Just when you think you know people. This business is something isn't it?! Its (sic) never good when people are sneaky and go behind your back especially friends. Then you see it in the press! Yuk! I let the girls - Ali and Ali know my feelings I was very honest with them. Just vent tweets I guess- ok I'm done now."
 
Richards was also shocked that Rinna had not been informed that she would be part of the show.
 
She tweeted to her friend, "@lisarinna as u (sic) know I wasn't part of selling it & only agreed to guest star when I was told all of us were, not the case, not happy about it."