Lisa Loeb Pregnant With Second Child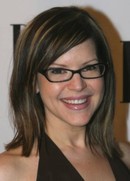 Singer Lisa Loeb is pregnant with her second child.

The Stay hit-maker is due to give birth this June, according to People.com.

Loeb and her husband Roey Hershkovitz wed in 2009 and already have one two-year-old daughter, Lyla Rose.

The thrilled mom-to-be says, "My daughter is so beautiful and sweet and funny... I grew up with a big family, so I'm excited for Lyla to have a sibling. It's a little bit of a challenge to try to balance my work with my family, but my family comes first."