Lisa Kudrow's 'Web Therapy' Moves To TV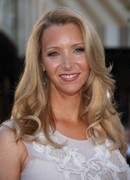 Actress Lisa Kudrow is taking her award-winning online show Web Therapy to TV.

The Friends star plays a therapist with "limited patience" for other people's problems in the improvised program, which has featured guest celebrities like Meryl Streep and Glee actress Jane Lynch.

The comedic show won Kudrow an award for Best Individual Performance in an Online Video at the 2011 Webby Awards recently and now the series is destined for television.

During an appearance on The Tonight Show with Jay Leno on Tuesday, Kudrow revealed, "(It's) kind of exciting 'cause it was online and they are taking content that was online and other stuff people haven't seen and it will be on Showtime. It's kind of a first."

Web Therapy is set to premiere on July 19.