Linus Roache Doubles Up With Roles In 'Vikings' And 'Non-Stop'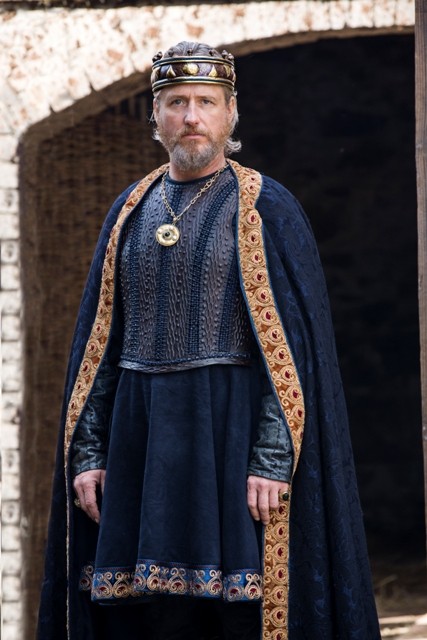 Entertainment fans have something to be especially pleased about this week: we're getting to see not one, but two performances from Linus Roache.
The British actor - who was the best thing about the final three seasons of Law & Order - returns to American television as a regular in History's Vikings, which begins its second season tonight. He inhabits the role of King Ecbert, the ruler of Wessex, a "sophisticated visionary" who will have to deal with the Vikings.
You can watch a clip of Roache in Vikings below.
The actor is also coming out with new work on the big screen. He has a supporting role in the new feature film Non-Stop, starring Liam Neeson as an air marshal who discovers someone is threatening to kill passengers every 20 minutes unless $150 million is transferred into a secret bank account. Roache plays David McMillan, the captain of the endangered flight.
Roache starred as charismatic, hard-hitting Executive Assistant District Attorney Michael Cutter for the final three seasons of Law & Order, a role he then reprised in multiple episodes of spinoff Law & Order: Special Victims Unit. When he first guested on SVU in 2011, we named him "the best district attorney ever to have graced the courtrooms of Law & Order."
His other credits include playing Thomas Wayne, father of Bruce Wayne, in Batman Begins, and Hugh, Earl of Manton in the 2012 ITV miniseries Titanic. In 2002, he earned a Golden Globe nomination for his portrayal of Robert Kennedy in the telefilm RFK.
Vikings premieres tonight at 10 PM ET/PT on History. Non-Stop is in theaters this Friday, February 28.
(c)2014 Brittany Frederick. Appears at Starpulse with permission. All rights reserved. No reproduction permitted. Visit my official website and follow me on Twitter at @tvbrittanyf.