Linkin Park: 'Songs from the Underground'

Linkin Park
is a band that just keeps on giving. Having just released their second live CD/DVD '
Road to Revolution
,' a few weeks prior, the band deemed it necessary to drop another record for their fans, this time an eight song collection from their LP Underground fan club, entitled '
Songs From the Underground
.'
They might be some time away from releasing their fourth full length studio album, but '
Songs from the Underground
' more than suffices as filler for the fans in the meantime.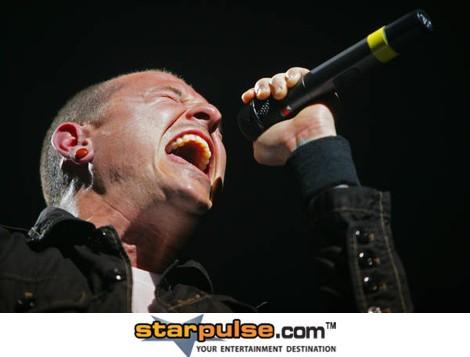 Granted, it may not be a proper Linkin Park album release, but it surely is one of their best collections of songs to date. Some might be live and some might be unreleased tracks and b-sides, but this record shows just how good this band truly is.
Throughout the years the band has released rare tracks to those fans that pay to be enlisted the Linkin Parks fan club, the LP Underground. The record itself houses some of the most prized non-mainstream LP songs in existence including a proper studio album of one of their heaviest offerings to date in 'QWERTY' as well as 'Part of Me.' 'And One,' a song mostly played live, sees a studio treatment and is a track that has LP at their best musically. Most of the studio tracks sound like LP during their 'Hybrid Theory' days, including the Mike Shinoda hip-hop track 'Dedicated,' a demo from 1999.
'Songs from the Underground' also houses two previously unreleased live tracks from the band summer 'Projekt Revolution' tour. The first of which is a duet between
Chris Cornell
and
Chester Bennington
, in which they perform 'Hunger Strike' by Temple of the Dog. This goes a long way to being the best track on the album, and Bennington carries the song perfectly. The second has Bennington right back at it performing the uber-emotional, metaphorically meaningful 'My December,' which has long been referred to as Linkin Park's most unheralded song, a favorite of most fans because of its stark, yet significant lyrical content. It is a solo effort from Bennington with Shinoda on keys and backing vocals. 'Songs from the Underground' doesn't get better than this song, and that's really saying something.
This EP might just be the tightest collection of songs ever released by Linkin Park. While it may only be available at Best Buy stores, it is only $6 for eight of the best songs you will hear on one record released by the band. Make sure you buy it. Not to mention that when you buy the record, you get a free one-month membership to the LP Underground and a free download of 'Crawling' live featuring Cornell on vocals.
Sounds even better now doesn't it?
Grade:
A
Listen to:
'QWERTY,' 'My December'
Story by
Brian Campbell
Starpulse contributing writer