Linkin Park Frontman Chester Bennington: 'I Was A Raging Alcoholic'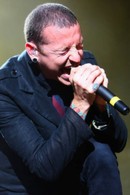 Linkin Park frontman Chester Bennington has become the latest star to come clean about his booze problems, revealing he was once "a raging alcoholic."

Just a week after Harry Potter star Daniel Radcliffe opened up about his secret battle with alcohol, Bennington has spoken out about his own problems.

He tells rock magazine Kerrang!, "I don't drink. I choose to be sober now. I have drunk over the last six years, but I just don't want to be that person anymore."

In the candid interview, the singer also speaks about being molested as a seven-year-old child, adding, "If I think back to when I was really young, to when I was being molested, to when all these horrible things were going on around me, I shudder."