Lingerie Football League Boss Wants Michael Jackson's Daughter Paris For Spokesperson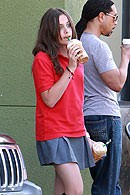 Michael Jackson's teenage daughter has been approached by the commissioner of America's Lingerie Football League and asked to be the organization's youth spokesperson.

The offer follows the news that 13-year-old Paris has become the first girl in her private Los Angeles school's history to get the call-up for the flag football team.

LFL Commissioner Mitchell Mortaza has fired off a letter to the Jackson estate asking the teenager to sign on as a youth spokesperson.

In the letter, obtained by TMZ.com, Mortaza writes, "(The person signing up for the position) will be introducing youth clinics across the country to introduce the game of football to young ladies at an earlier stage in life.

"We... would like to invite Paris to become the spokesperson for the LFL's youth program and perhaps start training for a future football career in the LFL when she reaches the age of 18."