Lindsay Pulsipher Replaces Hilary Duff In 'Bonnie & Clyde'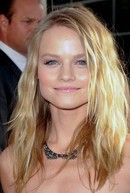 True Blood star Lindsay Pulsipher has landed the leading lady role in the upcoming Bonnie & Clyde movie following Hilary Duff's much-publicized departure.

Duff was first picked to play notorious bank robber Bonnie Parker in The Story of Bonnie and Clyde, but she was dropped from the reboot in August after announcing she is expecting a child with husband Mike Comrie.

After paying Duff $100,000 as part of a severance deal, movie bosses have announced they are moving forward with Pulsipher as the outlaw.

Producer Tonya S. Holly says in a statement, "We are thrilled to welcome Lindsay Pulsipher as Bonnie Parker in The Story of Bonnie and Clyde. Lindsay will undoubtedly bring many layers to this critical role. This is a gripping story about two of the most legendary fugitives in history."

An actor is yet to be cast for the role of Clyde Barrow after Kevin Zegers bowed out due to scheduling conflicts, according to the Hollywood Reporter.