Lindsay Lohan's Probation Officer Gives Thumbs Up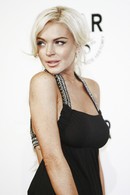 Lindsay Lohan's probation officer has given the actress the thumbs up and recommended the Los Angeles judge presiding over her case terminate her probation.

The Mean Girls star has been on her best behavior in recent months as she fulfills her community service hours and attends therapy sessions relating to her 2011 conviction for a probation violation.

But recent reports suggested the actress could be back in trouble after she was allegedly involved in a hit-and-run incident outside a Hollywood nightclub earlier this month.

Lohan has slammed the accusations as "false" and "absurd" and although her probation officer makes a mention of the allegations, it appears the representative has sided with the star by dismissing the claim too because the actress was not arrested or charged.

The probation report, obtained by TMZ.com, states in part, "The probationer (Lohan) is in compliance with the terms and conditions of probation."

Lohan is due to attend her last therapy session on Tuesday and complete her community service sentence on Wednesday - just in time for her final progress hearing with Judge Stephanie Sautner on Thursday.