Lindsay Lohan's New 'Liz & Dick' Poster Describes The Troubled Star's Life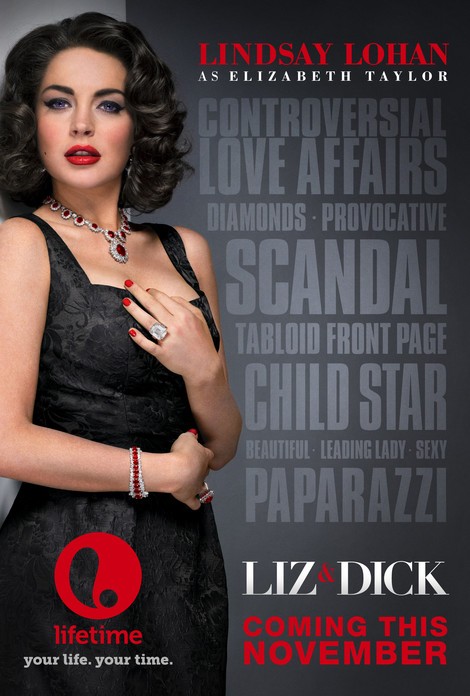 Lifetime network just released the artwork for its highly anticipated made-for-television movie "Liz & Dick," featuring Lindsay Lohan as Elizabeth Taylor.
The actress looks quite a bit like the movie icon with dark shoulder-length hair, red lips, and piercing blue eyes. She's wearing a black dress and is dripping with rubies and diamonds on her neck, wrist and fingers.
The poster reads:
Lindsay Lohan As Elizabeth Taylor
Controversial
Love Affairs
Diamonds - Provocative
Scandal
Tabloid Front Page
Child Star
Beautiful - Leading Lady - Sexy
Paparazzi
It's eery how similar the poster describes both Taylor and Lohan, who've both had their share of drama in their lives. Both were child stars. Both have been involved in high-profile relationships and scandals. Most recently, Lohan was arrested for leaving the scene of an accident after allegedly striking a pedestrian while parking her car at The Dream hotel in Manhattan.
Lohan was allowed to use Taylor's "Cleopatra" dressing room trailer while filming the biopic. However, when a fan bought it during an auction in June it reportedly had damages estimated to be upwards of $100,000, including broken mirrors and cigarette burns. Her publicist denied the actress had anything to do with the damages.
"Liz & Dick" will air on Lifetime in November.