Lindsay Lohan's Maxim Bikini Photo Shoot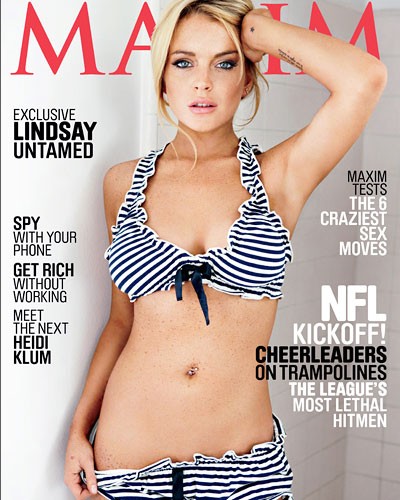 Lindsay Lohan was busy before she had her short stint in jail. Maxim is releasing a pre-jail photo shoot - for those counting, that makes four shoots before she was incarcerated.
She also sat down for an interview:
We know you've had a very trying week, and we want you to know that Maxim loves you. How are you feeling right now?
"I am feeling strong. I've experienced a lot in my life, and my mom has given me a lot of faith. This too shall pass."
You just had your birthday. What are you hoping for from the upcoming year?
"To focus on myself and my work and to move all press on me to focus on the work I do. Also, I'd like to do more work in India and travel to Malawi."
What is your advice to others about how to cope with adversity?
"Stay true to yourself always. At the end of the day, you have to look at yourself in the mirror and be content with the choices you've made, and will make, in your life. Go with your gut!"
For more sexy photos of Lindsay and the complete interview, check out the latest issue of Maxim - on newsstands now.