Lindsay Lohan Talks About Upcoming Rehab Stint, Tears Up On David Letterman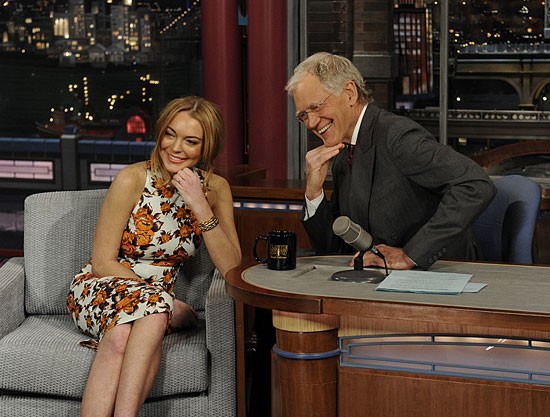 Lindsay Lohan's excuse for skipping a court deposition in Los Angeles? She was busy making an appearance on "The Late Show With David Letterman" in New York City.
The actress, who recently returned from a promotional trip to Brazil, decided to show up for the talk show instead of deal with photographer Grigor Balyan, who claims he was hospitalized in 2010 after Lohan hit him with her car outside a nightclub.
In her first TV interview since November, Lohan promoted her guest spot on Charlie Sheen's "Anger Management" and opened up to Letterman about her upcoming stint in rehab. She must begin 90 days of court-mandated rehabilitation by May 2 as part of a plea deal she struck last month.
Letterman pressed her about the number of times she had been to rehab (she replied, "several") and asked her how this time will be different.
She admitted to the talk show host: "To be honest, I'm the happiest when I'm working and the healthiest, and I think this an opportunity for me to, you know, focus on what I love in life. And I don't think it's a bad thing. I think it's a blessing . . .and not a curse."
After bringing up the actress' shoplifting charges and various court appearances, he comended her for making an appearance on the program. "We'd never thought we see you again honestly because of the jokes and stuff. But yet you have enough spine, enough sense of yourself, enough poise to come out here and talk to me," he said.
His comments made the actress tear up as a clip from "Anger Management" was being introduced. She said: "I'm flustered right now, because you made me tear up because you're very sweet."
Before leaving the stage she said about her upcoming time in rehab: "I'm looking forward to some time for myself. The next time I come on the show, that will be in my past."
Following the taping, Lohan tweeted: "Had a wonderful time at the @Late_Show. It was great fun!"