Lindsay Lohan Shares Photo Of Herself Getting Tattooed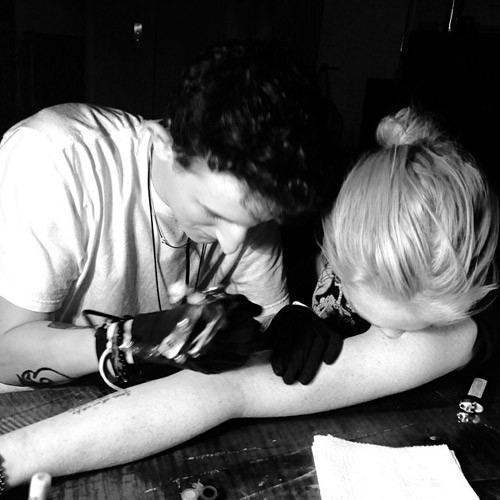 Lindsay Lohan is getting some new ink - and while she hasn't shown us her new tattoo yet, she's more than happy to give us a look at her experience getting it.
Lohan uploaded a photo of herself on Instagram receiving the tattoo last night on the inside of her elbow. In the shot, Lohan is digging her face into her shoulder as she holds her arm out. The tattoo artist, New York City's Staino, is masking the new art as he works on it - but you can see just a little tease.
As seen in the photo, Lohan already has some ink. On her forearm she has the quote, "Stars, all we ask for is our right to twinkle." She also has a tattoo of the Billy Joel lyric, "Clear as a crystal, sharp as a knife, I feel like I'm in the prime of my life."
Other tattoos of Lohan's that we know of is the phrase, "I restore myself when I'm alone" and a red triangle with the words "What dreams may come" below it.  On her hand she has the phrase "live without regrets" with a heart over it.
Lohan is moving on from her 90-day rehab treatment, reuniting with her personal assistant, chatting with Oprah, and fielding offers to host Saturday Night Live.