Lindsay Lohan Looks Great, Arrives Late To 'Scary Movie 5' Premiere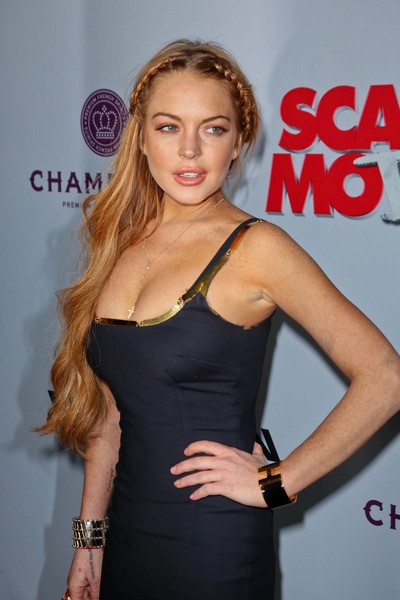 Last night, Lindsay Lohan arrived at the Los Angeles premiere of Scary Movie 5 30 minutes after the red carpet closed. The 26-year-old actress, who makes an appearance in the movie opposite Charlie Sheen, left guests and reporters waiting on Thursday night and appeared just as the movie screening was due to start at the ArcLight Cinerama Dome.
Lohan showed off her slim figure in a tight black dress. She wore large cuff bracelets and had braids in her hair. Despite her tardiness, she was able to rapidly pose for some pictures with Sheen before rushing inside for the screening.

Her excuse for being late? She had gone to the dentist prior to the premiere. In a message directed at her dentist, she tweeted, "Sorry for the delay... but thank you for your amazing help today best dentist ever."

"Scary Movie 5" director David Zucker revealed Lohan had been late numerous times when she was due on set but insisted she is still a good actress.

He explained, "She's a troubled human and she was late a lot to the set (but) she knew her lines and she's a good actress... This seems to be the business for all these addictions and craziness. Anybody has the potential to come back and straighten out."

Actress Ashley Tisdale said of her co-star: "I just know that she's a really talented actress, so I think if anything I just would love to see her do more movies. I've known her for a really long time."

Lohan is expected to begin a 90-day rehab stint by May 2 as part of her punishment for lying to police over a car crash in California last summer.

Check out more photos of Lohan at the premiere...