Lindsay Lohan Had To Hear The Song She's Suing Pitbull Over At Kim Kardashian's Wedding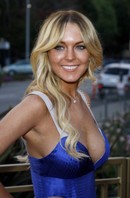 Lindsay Lohan had a few uncomfortable moments at pal Kim Kardashian's wedding reception on Saturday night when the event band played a cover of Pitbull's hit "Give Me Everything" - just days after the actress filed suit against the rapper for poking fun at her in the lyrics.

Lohan sat chatting with her mother and other guests as the former number one record played, according to Life & Style magazine.

Last week Lohan took offense to the line, "Hustlers move aside, so I'm tiptoeing, keep flowin'/I got it locked up like Lindsay Lohan," and accused Pitbull of making "disparaging or defamatory statements... destined to do irreparable harm" to her.

Her suit seeks an injunction to stop the broadcast of the song. It also seeks unspecified damages.