Lindsay Lohan And Jimmy Fallon Declare Twerking 'So 2-0-1-3'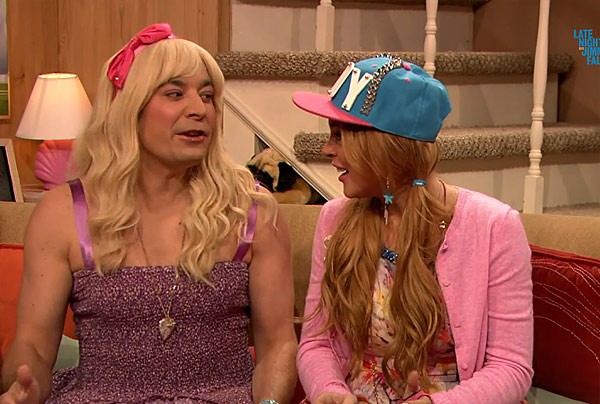 Lindsay Lohan made a surprise appearance on Jimmy Fallon's late night show Thursday, and starred in the host's recurring Saturday Night Live-esque skit "Ew!", about a 14-year-old girl's talk show on TeenNick.

Cut to fallon dressed as teen girl Sara (no 'h' because that's 'ew!'), who is joined by BFFFLFR — best friend forever for life for realsies -- Stephanie (Lohan), and the two discuss all the latest in pop culture, from the new One Direction to Miley Cyrus's latest video.

"We should do some twerking!" Sara says; to which Stephanie replies, "Ew, No! Twerking is so 2-0-1-3. Nowadays it's all about scrumping."

The two have a scrump-off, which is sure to be the next big dance once Miley's twerking fades away.

Past stars to play dress-up with the host and get their tween on include Channing Tatum,Michael Strahan and Emma Stone.