Linda Gray 'In Denial' About 'Dallas' Relaunch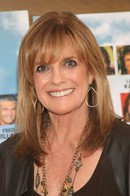 Dallas star Linda Gray still hasn't packed her bags for her move to Texas to start filming for the show's relaunch this month, revealing she's "in denial" about its comeback.

Producers of the cult serial drama confirmed last year they were planning to bring Dallas back to the small screen, and they have since signed up each member of the original cast except Victoria Principal.

Gray, who starts shooting her scenes on the real-life Southfork Ranch near Plano, Texas later this month, still can't believe she's getting a second chance to play J.R. Ewing's alcoholic wife Sue Ellen.

The actress, who is based in California, tells Britain's Hello! magazine, "I'm not prepared. I keep saying, 'I'll get my bag ready' but haven't done anything yet. I'm in denial that I'm going to move to Texas for four months."