Limp Bizkit Joins Birdman's Record Label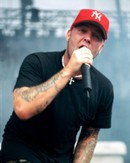 Rockers Limp Bizkit have joined Lil Wayne, Nicki Minaj and Drake by signing to hip-hop mogul Bryan 'Birdman' Williams' Cash Money Records.

The Rollin' hit-makers, fronted by Fred Durst, split from their longtime label Interscope in December due to creative differences over their latest album, Gold Cobra.

However, the group has now found itself a new home at Cash Money Records.

Rap superstar Lil Wayne broke the news to fans during an interview on New York radio station Kiss FM on Thursday night, saying, "It's like every other day I hear about somebody new signing to Cash Money... The other day, I heard about Limp Bizkit signing with Cash Money."

Durst later confirmed the rumors in a Twitter.com post, writing, "True... The game is missing danger, electricity, and rock n roll!!!! Cash Money Limp Bizkit."