Lily Collins Pulls Out Of 'The Evil Dead' Remake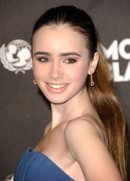 Phil Collins' actress daughter Lily has pulled out of the upcoming remake of horror classic The Evil Dead.

The Blind Side star was lined up to play Mia, a young woman who discovers a Book of the Dead while battling a drug habit in a remote cabin.

However, Collins will no longer appear in director Fede Alvarez's forthcoming horror film after negotiations stalled due to "scheduling issues," according to the Hollywood Reporter.

The new film, based on Sam Raimi's low-budget 1981 cult classic, will begin shooting in New Zealand in March.

Collins' 22-year-old daughter will next be seen onscreen portraying Snow White opposite Julia Roberts in Mirror Mirror.