Lily Collins: 'My Last Name May Have Opened Doors, But I Have To Keep Them Open'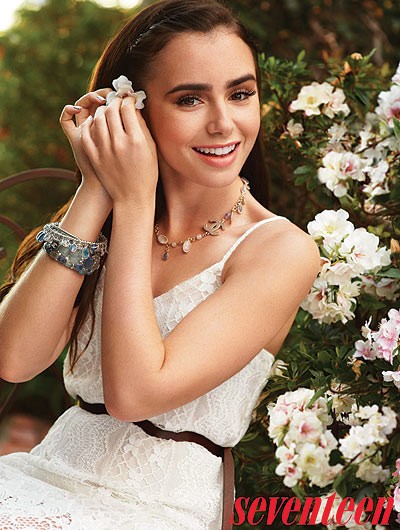 Up-and-coming actress Lily Collins, who stars opposite Julia Roberts in the upcoming live-action take on Snow White, Mirror Mirror, is the cover girl for Seventeen magazine, which hits newsstands Tuesday, February 7th.

The actress, daughter of Genesis singer Phil Collins, realizes that her burgeoning career may have been helped off the ground by her father's fame, but she's okay with that.

"My last name may have opened doors, but I have to keep them open," she says.

In addition to embracing her opportunities, Lily also has come to love something else - her eyebrows.

"It used to bother me – having bigger, fuller brows,"she says. "I even plucked them once so I'd fit in, but I hated them and couldn't wait for them to grow back. Now I embrace them. I've realized the quirky things that make you different are what make you beautiful."

The 22-year-old star also reveals her celebrity crushes while growing up, including Leonardo DiCaprio and Justin Timberlake.

She tells Seventeen, "It's weird to have celebrity crushes now because I could actually meet them or work with them! When I was younger, it was definitely Leonardo DiCaprio in Titanic. I had pictures of him and I had 'NSYNC posted. I had the biggest crush on Justin Timberlake!"

Check out Lily's behind-the-scenes video from her Seventeen photo shoot below.