Lily Collins In Talks To Lead 'Evil Dead' Cast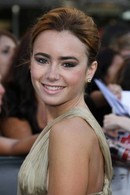 Phil Collins' actress daughter Lily is in final negotiations to land another major movie role as a rehabbing drug addict in Fede Alvarez's The Evil Dead remake.

The Blind Side star, who will portray Snow White opposite Julia Roberts in Mirror Mirror, is slated to play Mia in the horror film, which starts shooting in New Zealand in March, according to BloodyDisgusting.com.

Collins' character discovers a Book of the Dead while detoxing in a remote cabin following an overdose with four friends, reports the website.

Sam Raimi's low-budget 1981 film became a cult classic and Oscar-winning writer Diablo Cody is revamping the moviemaker's script for the new film.