Lily Allen Pokes Fun At Miley Cyrus And Robin Thicke In New Video, 'Hard Out Here'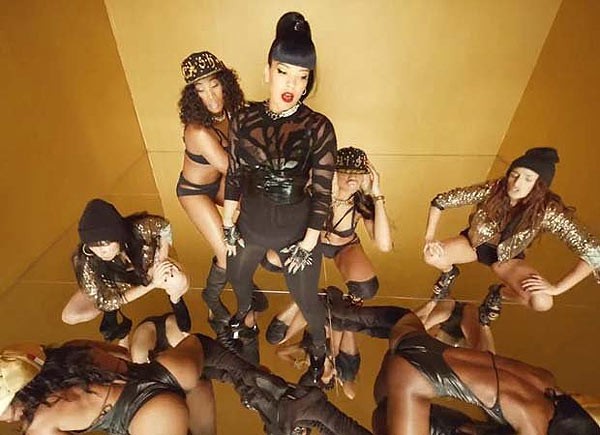 Lily Allen has (finally) returned with some new music and a new video.

The British singer's latest single, "Hard Out Here" -- her first since 2009 -- debuted Tuesday night, along with the accompanying video, which pokes fun at the likes of Miley Cyrus and Rihanna. It's even got some twerking going on in it.

The video starts out with Lily lying on an operating table having liposuction to get herself back into shape after she "had two babies."

The single, which includes lyrics like, "I won't be bragging 'bout my cars, or talking 'bout my chains / Don't need to shape my a*** for you 'cause I've got a brain," doesn't name anyone specifically, but it is a direct call-out to singers like Miley Cyrus and Rihanna for their racy antics.

It even takes a shot at Robin Thicke's "Blurred Lines" video. Thicke's video featured his dancers in front of letter balloons set up to spell out, "Robin Thicke has a big d***," while Lily's balloons read "Lily Allen has a baggy p****."
Lily received tons of positive feedback from fans on her twitter page, writing, "I am honestly on the verge of tears. So overwhelmed by your feedback. Thank you, thank you, thank you."

She also received some backlash over the dancers she used in the video because they were all black.

"If anyone thinks for a second that I requested specific ethnicities for the video, they're wrong... If anyone thinks that after asking the girls to audition, I was going to send any of them away because of the colour of their skin, they're wrong," she wrote on Twitlonger.com.

She also addressed her twerking skills and her option not to show as much skin as her dancers.

"If I could dance like the ladies can, it would have been my arse on your screens; I actually rehearsed for two weeks trying to perfect my twerk, but failed miserably," she wrote. "If I was a little braver, I would have been wearing a bikini too, but I do not and I have chronic cellulite, which nobody wants to see."

The video received well over a million hits in its first day of release.