Lil Wayne's Ex-Girlfriend Nivea Arrested For DUI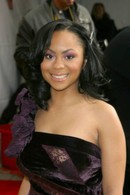 Lil Wayne's ex-girlfriend Nivea was arrested on suspicion of driving under the influence and reckless driving over the weekend after she allegedly crashed into a tree in Atlanta, Georgia.

The R&B singer, who has a child with Wayne, had attended a wedding reception on Saturday night and was driving home after the event in the early hours of Sunday morning, Nivea, who was previously married to The-Dream, reportedly crashed her Mercedes into a tree trunk which had fallen down following a recent storm in the area, according to TMZ.com.
 
When cops arrived at the scene, she allegedly had "bloodshot, glassy eyes and smelled like alcohol (sic)" and claimed she had failed to see yellow police tape directing drivers away from the hazard.
 
The singer was taken in by cops but insists she only had three drinks throughout the evening and was not drunk at the time of the incident.
 
An unnamed child passenger was unhurt in the collision.