Lil Wayne Offers Free Mixtape To Apologize For Album Delay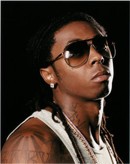 Lil Wayne has rewarded his loyal fans with a free mixtape as thanks for their patience ahead of the release of his long-anticipated new album.

Tha Carter IV was due to hit shelves in May but the deadline was pushed back twice to give the rapper more time to finish the tracks.

Now, the hip-hop star is hoping to make amends for the delays by offering his devotees a free mixtape, entitled Sorry 4 The Wait.

A message posted on WeezyThanxYou.com states, "This mixtape, Sorry For The Wait, is a thank you to you fans for... your continued support of Tha Carter IV, which will be released on August 29th."

The 12 tracks on the mixtape include remixes and freestyle raps over songs by Drake, Beyonce and Big Sean.