Lil Mama Dishes 'Dance Crew' And Her Plans To 'Enjoy Life And Create An Experience'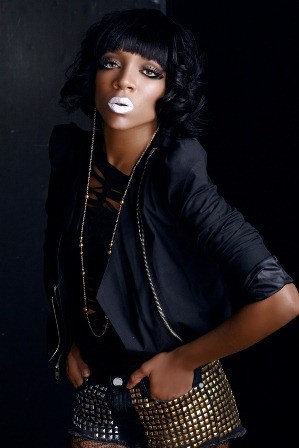 Lil Mama is resident judge on MTV's hit show, Americas Best Dance Crew, working on a single with Snoop Dogg and just finished up her music video for "Doughboy." Starpulse got an exclusive chance to talk to Lil Mama about all the exciting projects she is working on and how she keeps her Lip Gloss a-poppin.
Starpulse: Tell me about your judging gig on America's Best Dance Crew this is Season 6, right?
Lil Mama: I am one of the pioneers of America's Best Dance Crew.  I have been with the show since season one and was invited to be a part of that project by Randy Jackson himself and ­­one of the creators of the show.
Starpulse: Do you ever feel bad having to send a crew home? They are all trying so hard and you have to let one of them go each week.
Lil Mama: Yeah, a lot of times I'm disappointed in America- well America's voters of the show, because they vote for the crews week by week and whoever lands at the bottom is obviously the crew with the least votes. I am very shocked sometimes by who they vote for and when it comes down to us to save a crew, its tough because at the same time you have to send someone home.
Starpulse: You're never afraid to speak your mind and even fight a little with the other judges on the show- is that just you showing your personality or do the producers push you a little to be assertive like the "Simon" of American Idol?
Lil Mama: I don't think that our show is anything like or trying to be like any other show because we're our show, it's not Lil Mama as another artist. I'm not playing a part it's not an acting gig- it's my actual personality so you always get me on the show. I have taken a ride on the show. I been on it since I was 15 and my personality has changed a lot and in a nutshell it's pretty much what you see is what you get.
Starpulse: I heard that you had a contest where you flew a fan of the show out to Hollywood for a meet and greet. Tell me about the process of choosing that fan and what was it like when you met him or her.
Lil Mama: My team made sure that we connected with the fans and we were on the web. It was a random pick and we wound up getting two young girls, sisters, that are from California and we put them up in a hotel and got them to the show. I was very excited because they were very big fans of mine and very unique and authentic. They knew my records and songs of mine from my first album and were excited about coming out and they were very interesting young girls.
Starpulse: Speaking of your first album, I'd have to say that I still absolutely love your single "Lip gloss." How did that song change your life? It was such a huge hit and kind of came out of nowhere and everyone was singing it.
Lil Mama: It was an experience. A part of my past that was very emotional at times and overwhelming for sure because it was a whole new atmosphere and a whole new perception of life and me. I went from being a girl in my neighborhood from Brooklyn and Harlem, making music and playing music and just performing but once that record picked up I was just able to connect with so many people and it was just overwhelming.
Starpulse: I just watched the music video for "Doughboy" and I have to admit it was stuck in my head for hours. Can you tell me a little bit about the concept behind the name of the song and the video itself?
Lil Mama: Thanks so much. Actually it's a part of a short musical I am working on and the character I am playing is a young woman telling a boy, "I don't need your money." It has a Ray Charles kind of feel, like, dancing in the streets kind of feel. And it's fun to become that character in the video.
Starpulse: What are a few things about you that not a lot of people know?
Lil Mama: I never know what I am going to wear. A lot of people are into my fashion and they know how I dress and even a lot of fashion designers say I make great choices. I'm like really? Because that just came on a whim! So when it comes to fashion I never know what I'm going to wear until I wear it.
Starpulse: Who are the biggest inspirations in your career?
Lil Mama: My biggest inspiration is a split. My mom, first and foremost for being my creator, a powerful influence in my life and being all that she could be. She was a great singer as well and a great mom and just by her pushing me and having a spirit of a winner encourages me. And as far as other women in my field and industry, I would have to say Missy Elliott and Lauryn Hill.
Starpulse: Tell me about your single "NY NY LA LA" with Snoop Dogg. What was it like working with such a legend in the hip hop world?
Lil Mama: Snoop Snoop Doggy Doggy, Gin and Juice? (laughs) I mean I have been a big fan of Snoop since I was a young kid- his music and everything he does. And being such a pioneer and empire himself and influencing so many young people from a minority community like myself. I love what he does and to work with him was an honor.
Starpulse: What can we expect next for you? What are you working on?
Lil Mama: Really music, television, living life and taking it day by day. Really enjoying life and creating an experience. A lot of people are asking me what I'm working towards or if I'm working on an album. I tell them it's the experience- that I am going to take fans and my followers on a journey.
Note:  Make sure to check out Lil Mama's music video for "Doughboy" and follow her on Twitter @LilMama.