'Like Crazy' Star Felicity Jones Talks About Long Distance Relationships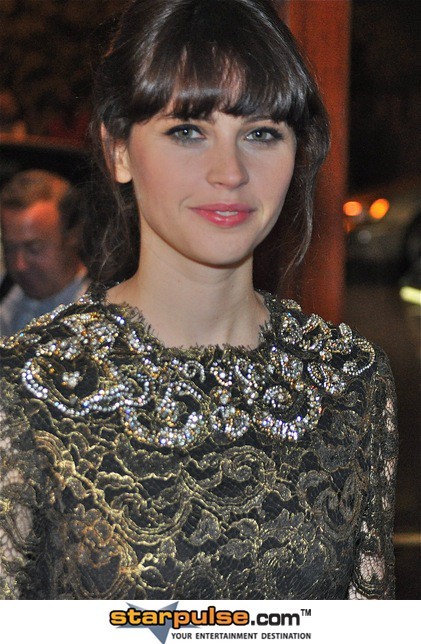 The Sundance hit Like Crazy finally comes to movie theaters nearly a year after its festival premiere. In the heartfelt drama, Felicity Jones stars as a British girl who overstays her travel Visa and cannot get back into the U.S. to see her boyfriend Jacob (Anton Yelchin.) The long distance tests their relationship, and Jones could relate.
"I could definitely empathize with Anna," Jones said while promoting the film at the Toronto International Film Festival. "As an actor, you're a gypsy. You're constantly moving in a different places and it is hard to retain those connections with your home and your family. It definitely tests you as a person. I think in the sense of being away a lot, I can understand their position."
One of the reasons the film resonated so much at Sundance is everybody brings their own personal baggage to it. People who've been hurt feel that Anna and Jacob are doomed. Lovebirds think they're destined to be together.
"That's what's so surprising," Jones reflected. "People come up to you after a screening and they'll say, 'This is exactly what's happened. I've been through this.' And have a great empathy for this."
As a successful actor, Jones has traveled the world for her craft. She could see herself at home in L.A. or her native London, at least for a while. "I've always had a very good impression [of Los Angeles.] I like it because it's so different from London. I couldn't think of more polar opposite places than London and L.A. and I enjoy the contrast very much. I think especially now you can live in many different places. I feel like I'll be in L.A. sometimes and then in London and probably New York as well. I think it all depends on where the work takes me at the moment."
Jones won Best Actress at the Sundance Film Festival. Now her world is opening up and you can expect to see a lot more of her. "I think the main thing was I met some extraordinary directors and that's always been my dream, to meet these people. Since Sundance I've been very fortunate to have those opportunities to meet people like Noah Baumbach, people's work I've loved watching. Then to be sitting in a room with them is quite extraordinary."
Like Crazy opens October 28.