Life Imitating Art - Hottest Reality Show on Television: Presidential Election?

The strike is over. Reality programming rules the airwaves and scripted shows are on the horizon. Tomorrow, millions of Americans will gather in front of their televisions with bated breath, eager to watch: The results of the Texas and Ohio election primaries?
Commenting on this year's Presidential Election, comedian and faux-newsman
Jon Stewart
mined comedy gold while hosting this year's 80th Annual Academy Awards telecast:
"Democrats do have an historic race going.
Hillary Clinton
vs
Barack Obama
. Normally, when you see a black man or a woman president, an asteroid is about to hit the Statue of Liberty."
For many Americans and avid television viewers - myself included - it still seems surreal that
Geena Davis
' female Commander-in-Chief and
24's
African American leader of the free world (
Dennis Haysbert
) are no longer just optimistic, improbable works of fiction. In this U.S. election, these two characters -and their real-life counterparts Hillary Clinton and Barack Obama respectively - represent what could become a reality for the first time in history.
Jon Stewart isn't the only one paying attention. Perhaps it was the absence of our previously scheduled programming, courtesy of the writer's strike. Maybe it was the sheer amount of election coverage, broadcast and edited to appeal to the savvy viewer like never before. Possibly the drama of this year's race, and the cast of "characters" involved piqued the interest and excitement of America, making election coverage "must-see" TV (more on that later). Most likely it was a combination of all three. Whatever the answer, ratings for this year's election coverage have been unprecedented.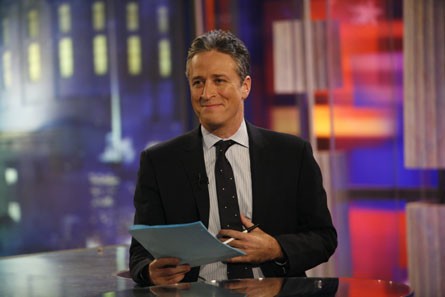 Cable news giants CNN, MSNBC and Fox News have really scored as a result. The combined ratings for all three networks set a Super Tuesday record.
ABC News hit one out of the park in January with their back-to-back primetime debates attracting large audiences (7 million+ for the Republican Debate, and over 9 million for the Democrats). In fact, all of the networks have increased election coverage, hoping to tap into the renewed interest viewers seem to have for the political process.
Don't get me wrong: Scripted television isn't in any danger. On Super Tuesday, Fox, which aired new episodes of
American Idol
and
House
, blew away the competition, all of whom were airing election coverage. It seems that given the choice, viewers still choose traditional entertainment options (especially when it consists of original episodes airing during a strike). Still, these numbers don't negate the fact that Americans are tuning in more this year to election coverage than ever before.
So, what is it? I speculated earlier on probable causes, and I can't help but to come back to the delicious, soap-operatic quality of this year's race. It has everything good television needs: Suspense, melodrama, plot twists, nail-biters and best of all - cliffhangers.
This year's political drama boasts a colorful cast of characters so varied, it's as if they were cherry-picked by the casting directors of
The Real World
: The first serious female and Black contenders for the presidency; A Mormon, a Native American and a war hero. Even a conservative preacher who lost so much weight that he could have been a contestant on
The Biggest Loser
.
The election can also claim compelling storylines:
John McCain's
imprisonment and triumph in Vietnam. Hillary Clinton's comeback as embattled First Lady to Democratic front-runner.
We can't forget the feel-good moments: Senator Clinton's tears in New Hampshire just before her victorious primary there; Obama's unexpected landslide victory in Iowa.
Tops in the guilty pleasure category are the election's edge-of-Your-Seat results, as we watched candidates get "kicked off the island" one after another.
At its best, television has the ability to inform, educate and enlighten, and most importantly, to provide an entertaining respite from the reality of daily life. However, if the long winter of the writer's strike has taught us anything, it's that entertaining television and politics are no longer considered mutually exclusive.
The candidates themselves realize this: Frontrunners have appeared on late-night programming and daytime talkies like
The Tyra Banks Show
. At the top of the February 26th Cleveland debates, Hillary Clinton referenced a recent
Saturday Night Live
election sketch. This past Saturday, she flew to New York just to open the show. Perhaps recalling her husband's iconic appearance on the Arsenio Hall Show during his first presidential campaign, Hillary, on the eve of these crucial Texas and Ohio primaries has eschewed eleventh hour stumping in favor of an appearance on - what else -
The Daily Show
with
Jon Stewart
(no asteroids in sight).
In the past, television has been derided as the "boob tube" and the "idiot box". The medium has long been unfairly accused of being an escape for the uninformed, the uncultured and the apathetic. Yet, I don't think anyone looking at the ratings for election coverage this year could accuse viewers of turning on and tuning out. Though poll numbers will tell the ultimate tale, it would seem that the American public has decided that they care about their next American Government as much as their next American Idol. At the very least, they've determined that the future of this country is as much worth watching as the scripted shows we love and miss; an entertaining notion, indeed.
Story by
Shannon Peace
Starpulse Contributing Writer