'Lie To Me' Season 1 Comes To DVD August 25

The average person tells three lies in ten minutes of conversation. From writer Samuel Baum ("The Evidence") and the executive producers of "
24
" and "
Arrested Development
" comes "
Lie to Me
," a compelling drama series inspired by the scientific discoveries of Dr. Paul Ekman, a real-life specialist who can read clues embedded in the human face, body and voice to expose both truth and lies in criminal investigations. The first season debuts on DVD on August 25 from Twentieth Century Fox Home Entertainment.
"Easily one of the season's best new shows" (Washington Post), "Lie To Me" stars Oscar nominee*
Tim Roth
as Dr. Cal Lightman, the world's leading deception expert, and his company The Lightman Group, who study facial expressions and involuntary body language to discover if someone is lying and why. Assisting federal law enforcement, government agencies and local police with their most difficult cases, the agency consists of Dr. Gillian Foster (
Kelli Williams
), a gifted psychologist; Eli Loker (Brendan Hines), Lightman's professional partner and lead researcher; and Ria Torres (
Monica Raymund
), the newest member of the agency with an innate ability to read people. In the groundbreaking first season of the hit show, the drama unfolds as the team is faced with numerous cases to unravel including a student fleeing a murder scene, a college basketball player accused of accepting a bribe from his university, a NASA test pilot accused of intentionally crashing a multimillion dollar aircraft, and much more!
The "Lie To Me" DVD sets include 13 episodes, featurettes, deleted scenes and a gag reel.
In this powerful and engaging new drama from Imagine Television, the producers of "24", Tim Roth stars as Dr. Cal Lightman, a deception expert whose uncanny ability to read facial expressions and body language makes him a virtual human polygraph. Joined by psychologist Dr. Gillian Foster, Lightman tackles compelling cases of sabotage, scandal and murder, always uncovering the one thing that matters most-the truth.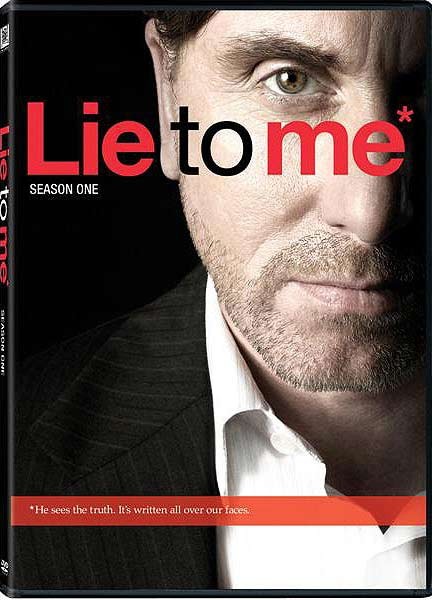 Image © Imagine Television
DVD Specs:
"Lie To Me" Season One will be presented in SD (1.78:1 aspect ratio) with English 5.1 DOLBY DIGITAL
with Spanish, French and Portuguese subtitles. Individual disc content is as follows:
Disc One Episodes:
-Pilot
-Moral Waiver
-A Perfect Score
-Love Always
Disc Two Episodes:
-Unchained
-Do No Harm
-The Best Policy
-Depraved Heart
Disc Three Episodes:
-Life is Priceless
-Better Half
-Undercover
-Blinded
Disc Four Episodes:
-Sacrifice
Bonus Features
-The Lightman Group Lie Detection Tutorials
-Play ALL
-Intro
-Anger
-Contempt
-Disgust
-Fear
-Happiness
-Sad
-Surprise