Libertines Movie Screenings Postponed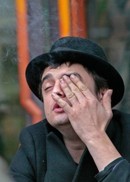 The U.K. tour of a new film documenting the 2010 reunion of rocker Pete Doherty's band The Libertines has been postponed because the director has tonsillitis.

Roger Sargent was scheduled to chat with fans about the film There Are No Innocent Bystanders after every screening later this month.

A statement from the director reads, "We are really disappointed to have to postpone the tour but I have tonsillitis and cannot do much talking at the moment!"

The screenings will now take place at the end of April and the beginning of May.

According to NME.com, the film features new interviews with Doherty and fellow frontman Carl Barat. The songwriting duo openly discuss the tensions between them that split the group in the documentary.

The film will be released on DVD in Britain on April 30.