Liam Neeson & Ralph Fiennes Felt Silly Playing Gods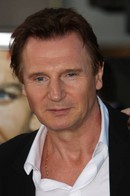 Liam Neeson struggled to keep a straight face while shooting the two Clash of the Titans movies with pal Ralph Fiennes - because the thespians felt ridiculous playing gods.

Neeson, who portrays Zeus in Clash of the Titans and sequel Wrath of the Titans, admits he had to focus on Fiennes' forehead during tense scenes between the warring brothers - to maintain his composure.

He explains, "When we did Clash of the Titans we found it hard to act with each other, so I would look at his forehead and he would look at my forehead because if we made eye contact it would go quite silly.

"We were more restrained this time (during the sequel) and had deeper, darker issues to act, so we didn't laugh as much."