Liam Neeson Hopes His Sons Avoid Show Business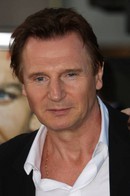 Liam Neeson hopes his children decide against a career in acting, as he is convinced they would be under extra pressure because of their famous parents.

The A-Team star has two sons by his late actress wife Natasha Richardson, and he is eager for them to pursue a career away from the spotlight.

He tells Britain's Independent newspaper, "I hope not (that they don't take up acting), because for every one of me there's 10,000 that still wait tables or wash dishes."

"Also, I think there'd be more pressure put on them because they have my name and so more might be expected from them, which I wouldn't want them."