Liam Neeson Arrives At 'The A-Team' Premiere In Trademark Van, Others On Tank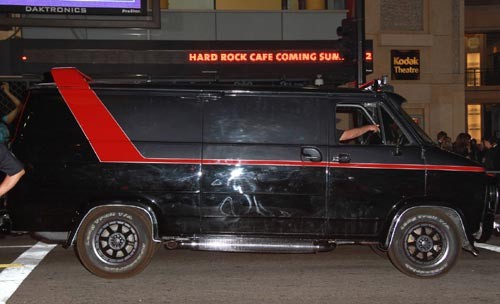 The A-Team's Liam Neeson busted into premiere in the classic van last night, making an entrance suitable for the testosterone-fueled movie he's promoting. Even the giant tank carrying Sharlto Copley and Bradley Cooper to the red carpet couldn't upstage the 80's vehicular icon.
Neeson said on his part as Hannibal: "Just be physical, fight, run, say a couple of lines, chomp of cigars - it was cool!"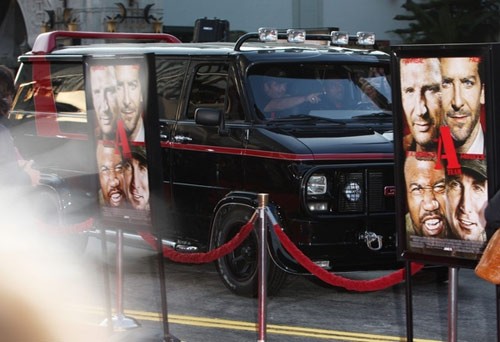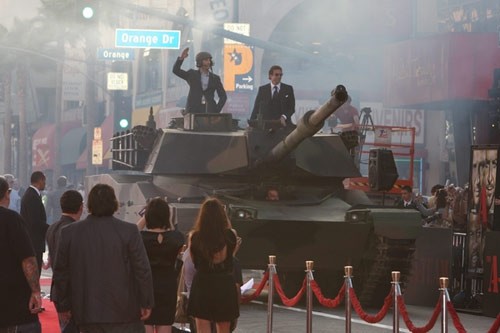 Bradley Cooper joked about his role, Face. "The curriculum for this guy was pretty intense." He says later "[My favorite part] is the guns. I probably shouldn't say it, but I really fell in love with that M4 machine gun."
Jessica Biel plays the "female lead" - an oxymoron for The A-Team, which has always been male-driven. "Hopefully we created something that people can relate to and that women can be proud of."
Not sure if anyone can relate to dropping a tank out of an airplane, but it should be a fun ride anyway. The A-Team hits theaters June 11.