Liam Hemsworth Once Threw A Knife At Brother Chris During A Fight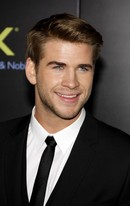 Miley Cyrus' boyfriend Liam Hemsworth has revealed he once threw a knife at his brother Chris during a petty fight.

The Hunger Games star admits he and Thor star Chris Hemsworth were forever scrapping as kids and one feud almost turned deadly.

The Aussie hunk explains, "I don't know why my grandpa thought it was a good idea to give little kids a proper throwing knife, but he gave it to us... You could throw it into a tree and it would stick in the tree.

"I threw it at his head when I was about eight and the handle hit him in the head."

The Hemsworth brothers are now on much better terms - but younger Liam really is amazed both of them made it to adulthood.

He adds, "We had a fist fight one time... and my mom tried to break it up and she got her finger broken. That was kinda like the low point of our fighting.

"My mom and dad went away to Europe for three months and me and my oldest brother, Luke, stayed at my grandma's house and Chris had to stay at my uncle's house, because we were too much trouble to be together. We would have a fist fight about who was gonna sit in the front seat of the car."