'Leverage' Recap: 'The Office Job' (4.12)
I've been only a casual viewer of The Office - but this week's Leverage, which spoofs the popular NBC comedy, makes for a pretty great day at the office.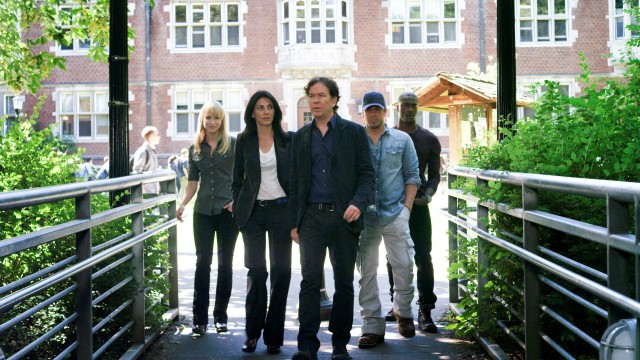 The folks at the Good Cheer Greeting Card Company aren't all in a good mood. A whistleblower comes to Nate saying that the new owner is going to run the company into the ground, taking the local economy with it. Team Leverage arrives on the scene posing as efficiency experts, with Nate throwing around a good dozen buzzwords no one understands.
They're not the only guests, though: a documentary film crew - led by a guy named Gunther who fancies himself a filmmaking genius - is also lurking around. With no time to waste, our heroes find themselves acting for the cameras, maybe even overacting.
Sophie starts making up asinine team-building exercises. Parker critiques the card-writing, leading one of the card writers to wield one that says "f--k this." And Hardison and Eliot start arguing about a sandwich. All of them take advantage of the cameras to vent their frustrations toward each other; I love when Sophie says that Nate told her that her English accent isn't convincing, given that Gina Bellman is British.
Uncovering the owner's scheme is almost secondary to the head of human resources wanting to ask Nate about his romantic relationship with Sophie, Parker becoming the object of Gunther's affection, and Eliot getting offended by Hardison's comment that his cooking is "forgettable."
Once the team is forced to turn to the documentary crew for help and half-blow their cover, things get even crazier. Nate and Sophie end up having dueling confessions, with him calling her a shrew, her bringing up his alcoholism, and a whole slew of other insults flung back and forth. The sequence is played to perfection by both Timothy Hutton and Gina Bellman, who have bickering down to an art form. It may be one of my favorite scenes in Leverage history.
In an interesting fourth-act change-up, Eliot and Hardison actually have to come to the rescue of the person they first perceived as the culprit, when it's revealed that the new owner is being framed by one of the many disgruntled employees. Eliot ends up having to come to Hardison's rescue to boot. ("Nobody throws Hardison off a roof...except maybe me.") It's the water cooler that literally trips up the real villain - a perfect device for an office-themed episode. As if that's not enough, at the last moment, we finally find out what happened to Eliot's sandwich...
"The Office Job" is one of Leverage's most hilarious outings. It's also impressive because all of that humor comes from the characters and their established personalities and quirks; nothing is forced, or trying too hard. All of the series regulars are on their game and you can see the tangible benefits of four seasons of chemistry. The only thing that would have made it funnier would have been if the Leverage writers had the time to spoof The Office's opening titles.
As it is, "The Office Job" is not only one of my favorite Leverage episodes, but it makes me want to go back and watch The Office again. Job well done.
(c)2011 Brittany Frederick/Digital Airwaves. All rights reserved. No reproduction permitted.