'Leverage' 4.02 'The Ten Little Grifters Job' Review
It was a dark and stormy night...and Nate Ford was getting a gun aimed at him by a detective. This week's Leverage opens like a classic mystery, and is an enjoyable romp for all those of us who wasted lots of time playing Clue.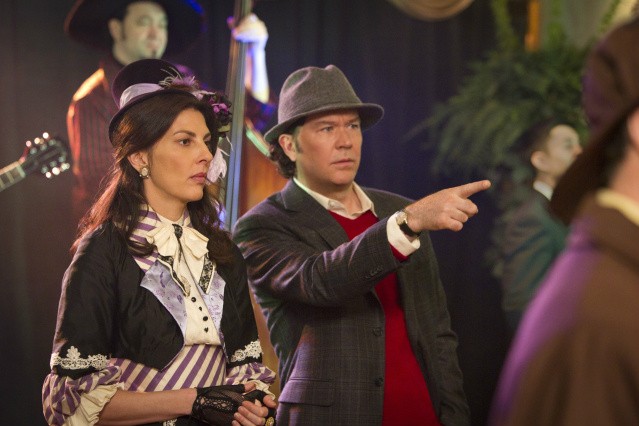 Three days earlier, he and Sophie are meeting with a lawyer who's lost her job trying to expose shady construction that's led to plenty of harm. The guy responsible, Morris Beck (that's Boy Meets World's William Russ), is having a murder-mystery party at his house, so our team dresses up as literary detectives to infiltrate the shindig. (Check out Nate coming as Ellery Queen when Tim Hutton's father, Jim Hutton, played the character in the 1970's TV series! And the dude who turns up as Magnum, P.I.) Beck has made plenty of enemies, so it's not shocking that he really dies - but it's bad news that Nate is accused of the crime. Can the team keep him out of trouble, find the real killer and still help their client?
While this is a fun plot with no shortage of suspects, the writing also provides moments that are so true to our heroes, whether it's Hardison complaining about technical problems or Eliot being disgruntled about...well, many things. Whereas other scripts might try to put the characters in amusing situations, this script allows those moments to come from the characters. The actual identity of the killer is no big shocker, but it's a satisfying resolution that makes sense with all the clues that were provided through the episode. There's even a little food for thought at the end, as Nate points out that even his own team members thought he might have been guilty.
I spent a lot of time in my youth playing Clue and the How To Host A Mystery games, so this week's Leverage brought back some fond memories for me, and it was fun picking out the in-jokes (such as the title, which I think is an Agatha Christie reference). I've also enjoyed how, thus far, season four has thrown our characters into settings that are really different from anything before; it shows that the series is definitely not running out of ideas. And like last week's "The Long Way Down Job," this episode appears to be one thing, but uses that as a jumping-off point for an entirely different narrative. Leverage will never surprise me but it doesn't have to - it's not that kind of show. It's just a reliably good time.
At a time when many shows start to show their age, it looks like Leverage is only getting better.