Leverage 3.14 'The Ho, Ho, Ho Job' Advance Review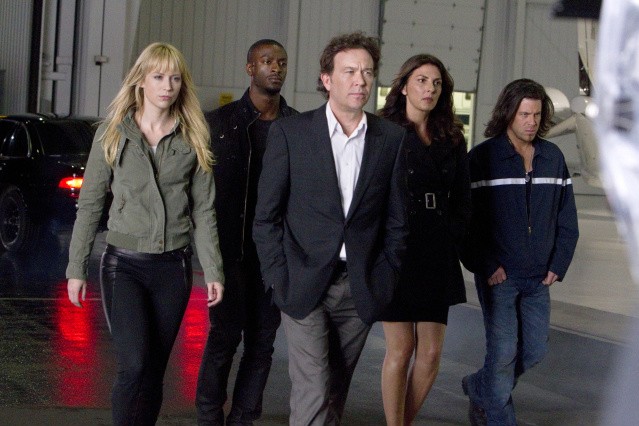 Are you ready to get even? Next week, Leverage is back to finish out its third season, starting with this crisp outing that sees the team taking on Santa Claus as a client.
Santa's real name is Frank, and he's a mall Santa who, along with several of his colleagues, has been recently fired by a villainous mall manager (the underrated Dave Foley of NewsRadio fame) who'd rather replace them with criminals. Even a miserable Nate can't turn down Santa, and so the team sets out to restore Frank's reputation and expose what's hiding in the mall. It's an opportunity for the team to get into some great characters, whether it's Hardison posing as a photographer, Parker and her reindeer antlers, or Eliot in a Santa suit, and the cast seems to be having a wonderful time. Leverage has always been about having fun, but because the cast is enjoying it so much, this one is especially fun.
There's all sorts of laugh out loud moments throughout the episode; I particularly enjoyed the reference to Foley's character having a massive gambling debt, as I met him when he hosted Bravo's Celebrity Poker Showdown. There's also the appearance of a gingerbread house, a particularly belligerent child, and an unconventional way of tree decorating. I talked in my review of Chuck's Thanksgiving episode about the majority of holiday episodes seeming either cliche or forced, and Leverage is neither; instead, the script almost delights in seeing how many interesting lines and gags it can get out of the holiday season. As anyone who's ever braved a mall at Christmas can tell you, there are many. Not content with just those, however, the episode also spins a plot that doesn't stop with the mall mayhem.
The two major guest stars in the episode are perfectly cast. Foley honed the art of playing the 'straight man' when he was on NewsRadio, and here he effectively counterbalances the enthusiasm and quirks of the Leverage team with his deadpan villainy. The episode also sees the return of Wil Wheaton as Chaos, last seen in "The Two Live Crew Job." Much like the main cast, Wheaton is definitely enjoying himself. Chaos attempts a horrible impression of Eliot and continues to drive Hardison up the wall; he doesn't miss a beat from his last appearance.
There's plenty of heartwarming holiday cheer to go around by episode's end, and I mean real holiday cheer, that doesn't feel forced at all. If you're not in the holiday spirit before this episode, you will be by episode's end. Add it all up, and forget that it's a holiday episode, this may be one of Leverage's best episodes, period.
For more Leverage, check out my recent interview with Timothy Hutton and Beth Riesgraf. The show returns next Sunday, December 12 on TNT.
Need to catch up with Leverage? Full show coverage is available in the Leverage category at my site, DigitalAirwaves.net.
(c)2010 Brittany Frederick/Digital Airwaves. All rights reserved.