Leonardo DiCaprio's 'Wolf Of Wall Street' Sex Scene Involved Dog Treats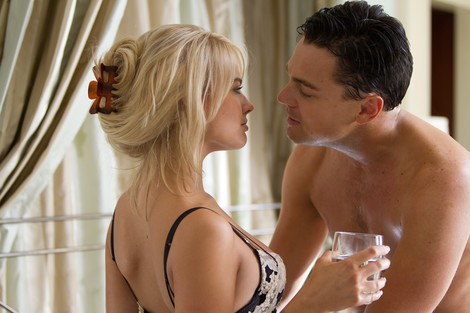 You would think that filming a sex scene with Leonardo DiCaprio would be incredibly hot but it was anything but, according to his "Wolf of Wall Street" co-star Margot Robbie.
The actress, 23, plays Noami Lapaglia in the upcoming Martin Scorsese film. She gets down and dirty with the 39-year-old actor's alter-ego, Jordan Belfort, but the moment was definitely not romantic.

Robbie insists: "The whole thing ended up being quite comical."
In the scene, a barking dog stands at the end of the bed and nips at DiCaprio's feet, and it took some ingenuity to film it.

Robbie told the New York Post: "We entice this dog to jump in the bed and bite at Leo's feet...so we had dog trainers at the end of the bed [with] dog treats...we're putting chicken liver on Leo's toes. We're in a small room, it's hot, it's sweaty, it smells like dog food."

Meanwhile, DiCaprio recently dismissed rumors that he used a body double for the naked scenes.

He explained earlier this week: "It's all me, pal. Look, when you do a character like this, you have to go all out. You can't pull any punches. You have to swing for the fences. Hopefully people enjoy it."
It's all skin, and it's all Leo. Is there a better reason to watch the film?