Leonardo DiCaprio Used 'Caligula' As Inspiration For 'The Wolf Of Wall Street' Character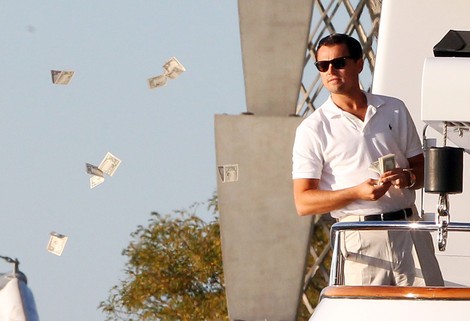 Leonardo DiCaprio used the 1979 erotic drama Caligula as inspiration for his performance as a hard-partying stockbroker in The Wolf Of Wall Street, because he wanted to emulate the level of debauchery featured in the cult classic.

The 39 year-old actor's latest movie is based on disgraced New York financier Jordan Belfort's memoir, which chronicles his lavish life in banking and his subsequent downfall as he was jailed for securities fraud and money laundering.

DiCaprio plays the high-powered Wall Street executive in Martin Scorsese's movie adaptation and he admits a lot of the ideas for the more raucous scenes were based on the Malcolm McDowell and Helen Mirren film.

He says, "My attitude with this movie was we were trying to depict a modern day Caligula and all the debauchery that comes with it. All the stuff that came with it was a fun process because there were really no limits to what we could do. Jordan's biography depicted stuff that we could never imagine and Terry (Winter) captured it for the screenplay from the novel."

One scene involved DiCaprio's character overdosing on Quaalude sedatives, causing him to lose all his senses, but the actor needed a little extra help from Belfort himself to understand the kind of affect it would have on his body. He also found a funny video on YouTube.com which helped him get into character for the segment.

He explains, "A lot of it (his performance in that scene) came from me filming Jordan and talking about what Quaalude's were like and I had him rolling around on the floor for me and he was very helpful with that.

"A lot of the research that I did came from watching this video on YouTube called The Drunkest Man In The World, and it's about him trying to get a beer but his body won't co-operate and he's rolling around the floor for hours, so that was a huge inspiration for me!"

DiCaprio also had to pretend to snort cocaine for the film, using crushed vitamin Bs as a substitute for the drug, but it wasn't a pleasant experience: "It certainly burned our nose  and we were energized for the day."