Leonardo DiCaprio And Jonah Hill Re-enact 'Titanic' Scene On 'Saturday Night Live'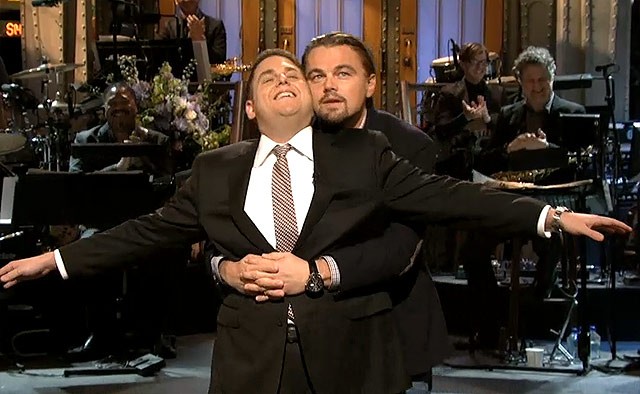 Leonardo DiCaprio surprised his Wolf of Wall Street co-star Jonah Hill on Saturday Night Live this weekend to recreate a memorable scene from one of his films.

The actor showed up while Hill was going through is opening monologue and patting himself on the back, joking that Leo wasn't even supposed to be in the film until he asked director Martin Scorsese to cast him, after which DiCaprio walked out on stage to ask him what he was up to.

Jonah tried to cover up the fact that he was calling Leo a hack behind his back and telling the audience that he's not quiteas good an actor as himself, and Leo reassured him that with two Oscar nods under his belt he's a legitimate actor now.

"I actually came here to support you, I've been backstage the whole time... why don't you just be honest about what you're doing right now," DiCaprio said.

"I was, like, being a big shot," Hill sheepishly replied.

The two then recreated Leo's scene with Kate Winslet from "Titanic," with Hill taking Winslet's place and asking, "Am I flying, Jack?"

Michael Cera, who starred with Hill in 2007's "Superbad," also made a surprise appearance for a skit poking fun at Oscar-nominated film "Her."

Watch below...