Leonard Cohen's 40th Anniversary As A Columbia Artist Celebrated In 2007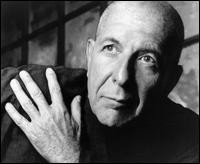 "Cohen, who was born in Montreal in 1934, was 33 years old when Songs of Leonard Cohen came out, old enough to embrace the creative momentum of the '60s counterculture without falling prey to its more naïve aspects. He had also been a published poet for more than ten years, and a novelist as well." -
from the new liner notes written by Anthony DeCurtis
Like the ancient scriptures themselves, whose parables and lessons have always inspired the poetry and songwriting of 72-year old
Leonard Cohen
, the verses and cadences of his first trilogy of Columbia albums recorded between 1967 and 1970 have continued to inform and enlighten followers of each musical generation that has arisen ever since. Many of these partisans gathered in 2005 at the Sydney Opera House for a tribute concert that was filmed as the core of a 2006 documentary film,
Leonard Cohen: I'm Your Man
, starring
U2
,
Nick Cave
,
Rufus
and
Martha Wainwright
, Kate and Anna McGarrigle, Teddy Thompson,
Beth Orton
, and others.
The liturgy of timeless songs to be found on Cohen's first three albums have mystified poets and professors for ages - among them "Suzanne," "Sisters of Mercy," "So Long, Marianne," and "Hey, That's No Way to Say Goodbye" (all from his debut album, 1967's
Songs Of Leonard Cohen
), "Bird on the Wire," "Story of Isaac," "Seems So Long Ago, Nancy," and "You Know Who I Am" (from the second album, 1969's
Songs From A Room
), and "Dress Rehearsal Rag," "Famous Blue Raincoat," and "Joan of Arc" (from 1970's
Songs Of Love And Hate
).

Of the many protégés and disciples who have spread their wings and found a kindred spirit in Leonard Cohen, none is more intriguing than singer-songwriter
Anjani Thomas
. They have been associated for nearly a quarter-century, since she first sang backing vocals on his maiden recording of "Hallelujah" in 1984, on
Various Positions
. Now signed to Columbia alongside Cohen, Anjani is set to release
Blue Alert
. The album's ten songs were written by Cohen and Anjani, she arranged the music and accompanied herself on piano, and the album was produced by Cohen.
And so the stage is set to commemorate the 40th anniversary of Cohen's debut album. For the first time in the digital era, expanded editions of
Songs Of Leonard Cohen, Songs From A Room, and Songs Of Love And Hate
will arrive in stores April 24 on Columbia/Legacy, a division of Sony BMG Music Entertainment. Each will contain previously unreleased bonus material of monumental historical importance to Cohen aficionados, as well as separate newly commissioned liner notes essays written by Rolling Stone contributing editor (and Cohen devotee) Anthony DeCurtis. Each will be specially packaged in a hardcover digipak configuration, similar to Legacy's
June Carter Cash
retrospective of last year,
Keep On the Sunny Side
.
In conjunction with these, Anjani's
Blue Alert
will be issued in a special two-disc digipak. The CD features ten tracks while the bonus DVD will contain two music video clips ("The Mist" and "Thanks For the Dance") and behind-the-scenes interviews and recording studio footage.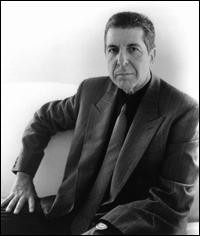 Shortly after, HarperCollins Books will publish a special 50th anniversary edition of Cohen's first book of poetry,
Let Us Compare Mythologies
. The volume was written in 1956, after Cohen left McGill University in Montreal, and was first published as part of the McGill Poetry Series. It will be released May 29 on the Ecco imprint of HarperCollins, who published Cohen's most recent book of poetry,
Book of Longing
(May 2006).
The previously unreleased bonus material on the three expanded edition CDs marks the first time that any of this music has surfaced.
Songs Of Leonard Cohen
: Recording sessions for this album began in early 1967 with Columbia A&R staff producer John Hammond, who signed Leonard Cohen to the label. Hammond, famously known for bringing
Count Basie
,
Billie Holiday
,
Olatunji
,
Pete Seeger
,
Aretha Franklin
,
Bob Dylan
, and others to Columbia, fell ill and was unable to continue on the sessions; they were subsequently completed by A&R staff producer John Simon (the uncredited producer of Big Brother & the Holding Company's
Cheap Thrills)
. "Store Room" and "Blessed Is the Memory" survive from the original Hammond sessions.
Songs From A Room
: Similarly, recording sessions for Leonard Cohen's second LP were begun May 1968 in Hollywood with
David Crosby
producing. The recently departed member of
The Byrds
had won acclaim with his first assignment as a producer,
Joni Mitchell
's debut album,
Song to a Seagull
(released March 1968). Cohen's album wound up being recorded in Nashville with Columbia A&R staff producer Bob Johnston, known for his work with Bob Dylan,
Johnny Cash
, and
Simon & Garfunkel
. Two tracks from the Crosby sessions now make their debut: "Like a Bird," which is an earlier version of "Bird on the Wire"; and "Nothing to One," which is an earlier version of "You Know Who I Am."
Songs Of Love And Hate
: For his third album, Leonard Cohen returned to Nashville and Bob Johnston in 1970. One of the songs they recorded was "Dress Rehearsal Rag," heard as a bonus track here in an early version from the second LP sessions of 1969.
"If Leonard Cohen had only recorded this extraordinary debut album," DeCurtis writes of the 1967 LP, "and then disappeared, his stature as one of the most gifted songwriters of our time would still be secure." Fortunately, Leonard Cohen went on to record more than a dozen Columbia albums over the next four decades, constantly reshaping his vision and startling the world with his imagination and courage. But it all begins here, with
Songs Of Leonard Cohen, Songs From A Room, and Songs Of Love And Hate
.
Songs Of Leonard Cohen
1. Suzanne
2. Master Song
3. Winter Lady
4. The Stranger Song
5. Sisters of Mercy
6. So Long, Marianne
7. Hey, That's No Way to Say Goodbye
8. Stories of the Street
9. Teachers
10. One of Us Cannot Be Wrong
Previously unreleased bonus tracks:
11. Store Room
12. Blessed Is the Memory
Songs From A Room By Leonard Cohen
!. Bird on the Wire
2. Story of Isaac
3. A Bunch of Lonesome Heroes
4. The Partisan
5. Seems So Long Ago, Nancy
6. The Old Revolution
7. The Butcher
8. You Know Who I Am
9. Lady Midnight
10. Tonight Will Be Fine
Previously unreleased bonus tracks:
11. Like a Bird (earlier version of Bird on the Wire)
12. Nothing to One (earlier version of You Know Who I Am)
Songs Of Love And Hate By Leonard Cohen
1. Avalanche
2. Last Year's Man
3. Dress Rehearsal Rag
4. Diamonds in the Mine
5. Love Calls You by Your Name
6. Famous Blue Raincoat
7. Sing Another Song, Boys
8. Joan of Arc
Previously unreleased bonus track:
9. Dress Rehearsal Rag (early version)