Leona Lewis To Release Her Highly-Anticipated New Album 'Echo' Nov. 17

Leona Lewis
who took the music world by storm with the release of her 2008 debut album
Spirit
announces today that her follow up album entitled "Echo" will be released on November 17th on J Records/Syco Music.
"Spirit", Leona's debut album has sold over 6 million albums worldwide since its release, earned three Grammy award nominations, and was the best selling new artist of 2009. In the U.S., "Spirit" debuted at #1 on the Billboard album chart, marking the first time in music history that any album by a British female artist has entered Billboard's Top 200 album chart at #1, as well as the first time any British artist, male or female, has claimed the top spot with a debut album. "Spirit" features chart-topping hit singles "Bleeding Love," the best selling single of 2008 and iTunes top selling single of 2008, and multi-platinum "Better In Time."
Leona Lewis is a 24-year-old London native and winner of the hit TV show "The X Factor", a British talent show.
Simon Cowell
tipped off
Clive Davis
to Lewis' talent during "The X Factor" competition. For the first time, Davis and Cowell teamed up to sign Lewis to J Records/ SyCo Music (Cowell's joint venture with Sony Music).
Album track listing and more information to be announced soon.
Leona's Busy 2008:
January
: Leona starts the year with four Brit Awards nominations.
February
: Leona performed in the "new artist slot" at the Clive Davis Pre-Grammy Party to a room star studded room that includes, among others, her idol
Whitney Houston
.
March
:
Oprah Winfrey
says of Leona "a star is born" as she thrills America with her #1 single "Bleeding Love," becoming the first UK female artist to take the #1 position on the Hot 100 chart with a debut since
Sheena Easton
did it in 1982.
April
: Leona repeats the astronomical British success of her UK Spirit release by becoming the first UK artist ever, regardless of gender, to debut with a first album at #1 on the Billboard US album charts.
May
: Leona performs to the biggest television audience of her entire career by appearing on "
American Idol
."
June
: Leona performs for and meets
Nelson Mandela
at his 90th birthday concert.
July
: To lend her some stone-cold clout in terms of extra-curricular international relations, Leona is appointed at a ceremony in Tokyo as Goodwill Ambassador for the UK-Japan 2008 campaign. It is a role that will see Leona represent the contemporary aspects of UK creativity as part of the celebrations marking the 150th year of UK-Japan diplomatic relations.
August
: Leona Lewis closes the Beijing Olympics with
Jimmy Page
of
Led Zeppelin
and the most famous sportsman on the planet, Mr.
Beckham
.
September
: Leona was the guest of couturier, impresario and visionary Roberto Cavalli at his Milan Fashion Week show.
October
: Leona Lewis' "Bleeding Love" named best selling single of 2008. New single "Better In Time" takes the #4 spot on the Top 40 chart and crosses the 1 million sales mark.
November
: Leona performs "Better In Time" at the American Music Awards.
December
: Leona is nominated for 3 Grammy awards.
2009 has seen Leona head back into the studio to work on her highly anticipated second album, with a cast list of writers, producers and musicians that reads like a veritable "Who's Who" of today's music industry. The eagerly awaited album is planned to drop November 17, 2009, along with a coffee-table photo book in the UK which has documented Leona's amazing journey; from Hackney, UK to Hollywood…and beyond.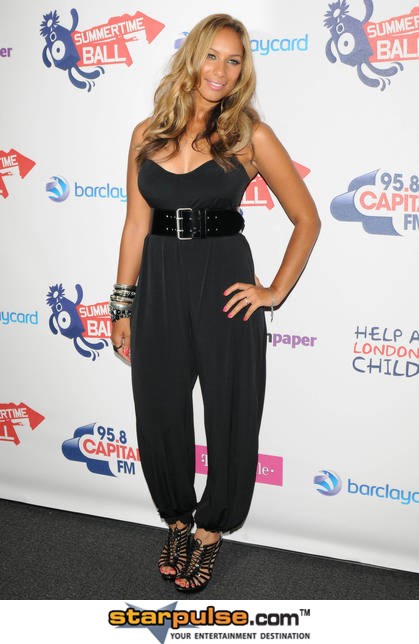 Image © Solarpix / PR Photos