Lenny Kravitz Supports UNICEF's Clean Water Campaign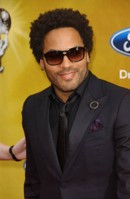 Rocker Lenny Kravitz is urging his fans to donate $1 to help support UNICEF's clean water crusade.

The Fly Away hit-maker has filmed a video for the organization's Tap Project scheme, which aims to give residents in the developing world adequate drinking supplies.
 
In a promotional video for the campaign, Kravitz says, "A glass of clean, safe tap water. There's nothing more basic and nothing more important to life - but during World Water Month, a glass of water can go a lot further than you think."

"From March 19th to the 25th, just $1 for Tap Water can help UNICEF provide clean, safe water for 40 kids in need. When you take water, give water."

In a post on his Twitter.com page, he adds, "Proud to support UNICEF USA and their Tap Project this year. Please help bring clean water to all children. Love, Lenny."