Lenny Kravitz Hooked On 'Hunger Games' Books, Psyched About Role In Films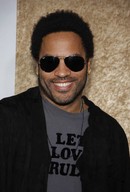 Lenny Kravitz is thrilled to be part of The Hunger Games film franchise after becoming hooked on author Suzanne Collins' bestselling action books.

The rocker has been cast as stylist Cinna in the much-anticipated Gary Ross movie - and he reveals he hadn't read any of the books when he landed the pivotal role.

He tells Rolling Stone magazine, "I didn't know what it was. I go out and get the book, read it - oh, wow.

"Now I'm really excited to be playing Cinna. Reading the book, I'm seeing everything - the Capitol, the arena, all this stuff. This world is going to be incredible."

And he's fired up to be a part of a big movie franchise after watching his daughter Zoe in the latest X-Men movie, First Class.

He adds, "That was a trip! I'm really proud of her. How cool is it to go to the movies and see your daughter flying around the screen?"