Lenny Kravitz Heard About Michael Jackson's Death During Scotland Show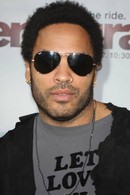 Lenny Kravitz had no time to grieve Michael Jackson's 2009 death when the news broke because he found out about the tragedy halfway through a show in Scotland.

The rocker became good friends with the King of Pop after they hit the studio to record a track, entitled Another Day, with Jackson on vocals and Kravitz playing along.

Jackson was found dead at his Los Angeles home on 25 June, 2009, just weeks before he was due to make his live comeback with a series of gigs in London, and Kravitz had to put his grief on hold so he could complete a concert.

Speaking on CNN's Piers Morgan Tonight, he says, "I was obviously devastated, I was blown away. I found out on stage in Scotland as I was coming off and getting ready to go back on for an encore and they told me and I had to go back out.

"It's extremely sad. I was really looking forward to seeing him come back and do those shows... you can't touch him."

Kravitz also reveals he will be forever indebted to the Thriller legend and his singing brothers for inspiring him to pursue a music career after he saw The Jackson 5 perform live as a child.

He adds, "I wouldn't be here today if I hadn't seen the Jackson 5 when I was six years old - that was the first concert I went to. The universe was a different place the next day. I was completely blown away."