Lena Headey Drinks Wine With Jimmy Kimmel, Is 'Not Sorry' For 'Game Of Thrones' Instagram Tease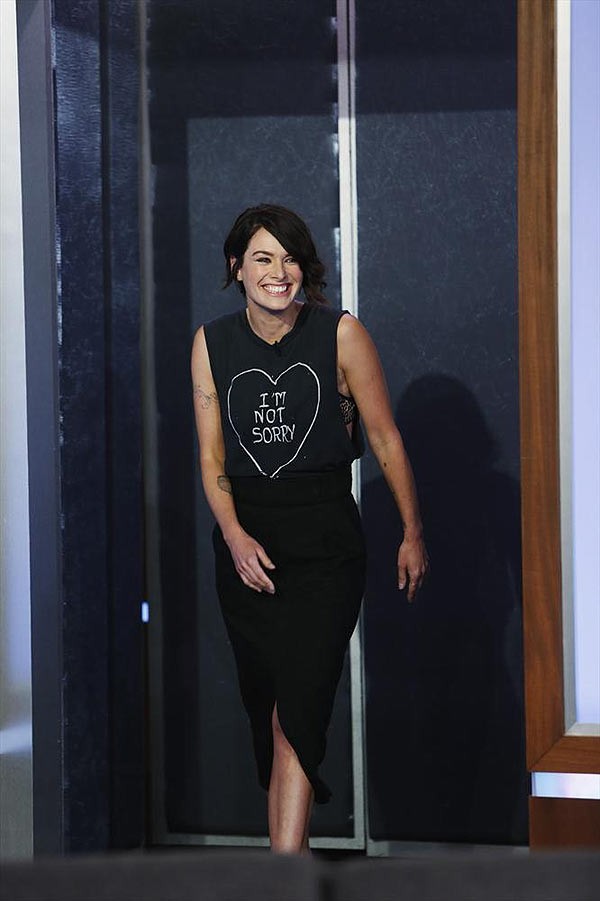 Game of Thrones star Lena Headey guested on Jimmy Kimmel Live Monday night to discuss Sunday's season four finale.

After revealing that because of all the shocking deaths on the show occasionally creators David Benioff and Dan Weiss will sneak a fake page of dialog into the script just to mess with them and keep them on their toes, "which is really unfair," Headey says.

The actress wore a sleeveless t-shirt with a grey heart outline and the words "I'm not sorry" written on it, a direct reference to an image she tweeted days before the finale, trolling fans and teasing that a highly anticipated character would be in the finale, but ultimately wasn't (read about that here, but be warned, there are serious book spoilers!)

Lena, who plays the wicked and conniving Cersei Lannister on the show, also got into character with Jimmy over goblets of wine and traded threats with one another.

"No one drinks a goblet of wine like you do on 'Game of Thrones' -- in character, of course," Kimmel said before bringing out a jug of wine and a pair of goblets.

"I thought it would be fun to talk to each other 'Game of Thrones' style," he added as the lights dimmed and sinister music began.

Then the gloves come off. Check it out...