Leisha Hailey Removed From Airplane For 'Aggressive Behavior, Not Kissing'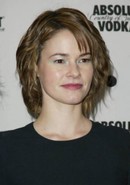 Executives at Southwest Airlines have investigated Leisha Hailey's removal from a flight on Monday and concluded she was not kicked off for kissing her girlfriend, but for swearing at cabin staff.

The L Word star demanded an apology from bosses at Southwest Airlines after claiming she was asked to leave the plane for kissing her partner, Camila Grey, onboard, and a number of stars including Moby and Kelly Osbourne have subsequently called for a boycott of the company.

However, a new statement from Southwest has now revealed it was the couple's cursing and their "aggressive behavior," not their kissing, which led to their removal from the flight.

The statement adds, "Additional reports from our employees and customers onboard flight 2274 during a stop in El Paso on Sunday now confirm profane language was being used loudly by two passengers. At least one family who was offended by the loud profanity moved to another area of the cabin."

"Although we have reports of what customers characterize as an excessive public display of affection, ultimately their aggressive reaction led to their removal from the aircraft. We do not tolerate discrimination against anyone for any reason. In this situation, their removal was directly and solely related to the escalated conversation that developed onboard the aircraft."