Legendary Jazz Pianist Oscar Peterson To Play Three Rare UK Concerts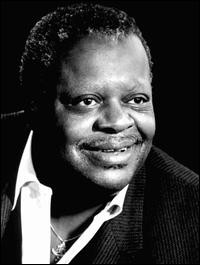 "One of the most brilliant pianists in the history of jazz, [his] prodigious technique and unparalleled swing makes him a master in every style… from boogie and stride to bebop and beyond." - BBC Radio 3
Universally acclaimed musician jazz pianist
Oscar Peterson
returns to the UK to play a series of three rare concerts - London Royal Albert Hall on Thursday June 29, Liverpool Big Top Arena on Saturday July 1, and Birmingham Symphony Hall on Monday July 3.
All three UK concerts will be performed as a quartet featuring Ulf Wakenius (guitar), David Young (bass) and Alvin Queen (drums) and Oscar Peterson (piano).
The son of immigrants from the British West Indies and the Virgin Islands, and born an raised in Montreal, Quebec, Canada, at the age of 22, Peterson formed his first Canadian Jazz Trio, and by 1949 he made a guest appearance at New York City's Carnegie Hall with his all-star concert troupe known as "Jazz at the Philharmonic". By 1950 he began recording for Norman Granz' Mercury label and formed his first US duo with bassist Ray Brown.
During the same year he was awarded the Downbeat award, having being voted best jazz pianist of the year; an award that he garnered for another 12 years.
In the early 1950s he went on to form a jazz school in Toronto, known as the Advanced School of Contemporary Music, which attracted jazz students worldwide.
Over the years, Peterson has recorded with many of the jazz greats and his recordings showcase his talents alongside
Louis Armstrong
,
Ella Fitzgerald
,
Count Basie
,
Duke Ellington
,
Dizzy Gillespie
,
Charlie Parker
, to name a few. Alas, it has been the recordings with his various trios that have brought him international acclaim and recognition around the world.